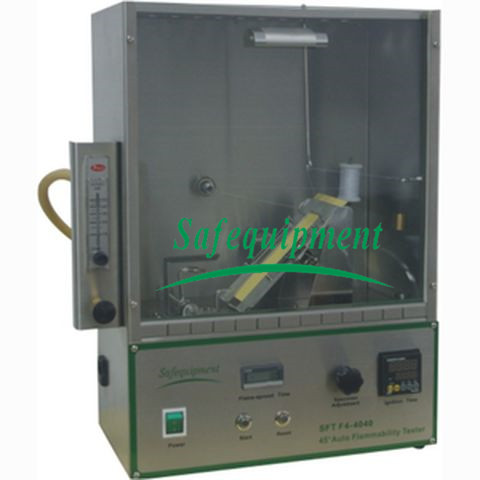 Conforms To
ASTM D 1230,FTMS 191-5908, NFPA 702, CFR Title 16 Part 1610, CALIF TB 117, GB/T 14644
45º Automatic Flammability Tester (Model:SFT F4-4040)
Application
45º Automatic Flammability Tester, to determine theburning characteristics of textile under controlled conditions. To measure theflame-spread time of textile specimens burned at a 45 º angle under controlledflame-impingement conditions. Flame impingement is controlled by anautomatically activated burner flame that involves the specimen for a presetperiod (impingement time) and then moves away from the specimen. A timerautomatically starts counting when the flame impinges on the specimen and thenshuts off when a trigger string (previously threaded across the upper portionof the specimen) is burned through causing a weight to fall and activate thetimer off switch.
Conforms To
ASTM D 1230,FTMS 191-5908, NFPA 702, CFR Title 16 Part 1610, CALIF TB 117, GB/T 14644
Specifications
A. Stainless steel test cabinet withglass observation panel.
B. Provided with automatic timing offlame spread in 0.1 second increments from ignition.
C. Automatic or manual flameimpingement for 1,5 or 20 seconds
D. Five specimen holders (with apackage of 10 metal clips)
E. Burner needle positioning template
F. Flame Length Gauge
G. Brushing device including NylonBrush
H. Outer Dimensions : W*D*H=526mm*260mm*420mm
I. Weight: 27KG (60LB)
Ordering Information
SFT F4-4040 45º Automatic Flammability Tester - specify 220V 50Hz or 115V 60Hz