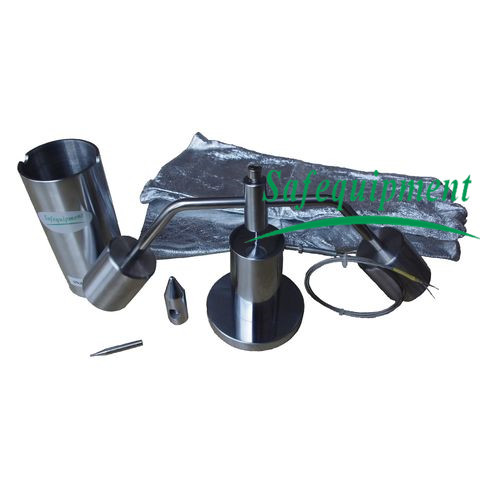 ConformsTo:
IEC60695-10-2(2003), IEC 60884-1, IEC60320-1, IEC60335-1, IEC60598-1,IEC60950-1. GB 2099.1, GB4706.1

Ball Pressure Tester (Model:SFT S1-2060)
Application
TheSFT S1-2060 Ball Pressure Tester is used fortesting parts of non-metallic materials for resistance to heat. It isapplicable to electro technical equipment, itssubassemblies and components, and to solid electrical insulating materialsexcept ceramics.
In this test, a conditioned specimen is placed on a preheated support andsubjected to a force of 20N applied through a 5mm steel ball. The test stand,specimen and loading device are then kept in an oven at an elevated temperaturefor an hour. After the hour, the loading device is removed from the sample, thesample is cooled and any indentation is measured. It is important to assurethat the test stand has reached a stable elevated temperature as required bythe test. For this reason, the SFT Ball Pressure Tester comesequipped with a thermocouple that inserts into the test stand so itstemperature can be monitored.
Instrument
TheSFT S1-2060 Ball Pressure Tester is made to thespecifications of IEC 60695-10-2 and other similar international standards. TheTester comes with interchangeable components to allow the user to select theirtesting preference to Figure 1a or Figure 1b of IEC 60695-10-2. In eitherconfiguration, the total force of the loading device is 20N±0.2N. In the case of usingthe 5mm ball, the mass of the ball is included in the total force.
The base is supplied with a thermocouple so the user can ensure it hasstabilized at the correct temperature in the oven prior to placing the specimenon it and adding the loading device. This is also a recommended feature in theIEC standard that many devices do not offer.
Additional features of the SFT Ball Pressure Tester kitare the included pair of insulated gloves and a stand for the pressure device.These are needed at the end of the test for the removal and storage of thepressure device when it is still hot. The SFT kitalso includes a 2mm check gauge that can be used to see if the specimenindentation passes or fails.
Features
---Nickel plated steelmaterials for good thermal stability
---Ball holder with bore andclamping screw for the bow
---Precision 5mm pressure ball(according to ISO 3290)
---Thermocouple for the teststand
ConformsTo:
IEC60695-10-2(2003), IEC 60884-1, IEC60320-1, IEC60335-1, IEC60598-1,IEC60950-1. GB 2099.1, GB4706.1
Specifications
A, Ball Diameter :Ø5mm±0.05mm
B, Ball Pressure: 20N (includes loading device and ball)
C, Test Stand:100mm high x50mm diameter
D. Weight: 5.5kg
E. Packing Size: W*D*H=450mm*330mm*150mm
OrderingInformation
SFT S1-2060 Ball Pressure Tester
Includes:
1Test specimen support
1 Thermocouple
1 Pressure ball 5mm (IEC60695-10-2(2003) Figure 1a)
1 Pressure ball 2.5mm (IEC60695-10-2(2003)Figure 1b)
1 Pair of insulated gloves
1 2mm check gauge
1 Storage stand for loading device