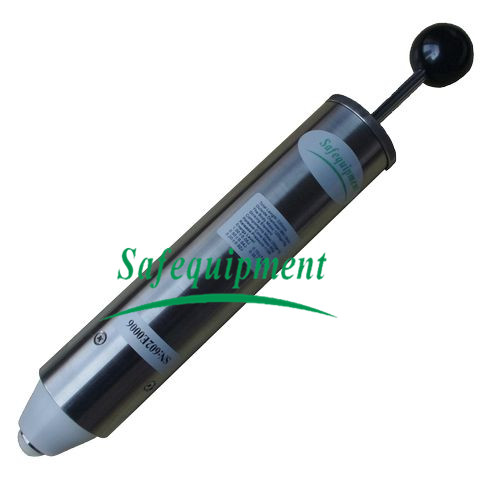 ConformsTo
IEC60068-2-75,IEC60065, IEC60335-1, IEC60598-1, IEC60745-1, AS4553-2008, GB4706.1,GB8898,GB7000.1
Universal Spring Hammer (Model:SFT S1-2050)
Application
ImpactHammers are used to check the durability of enclosures for electricalappliances or other electronic products. If damage occurs from the ImpactHammer test, Accessibility Probes can be used to measure the extent or severityof the damage. The Impact Hammer simulates the mechanical impact to whichelectrical equipment may be subjected.
Instrument
Theinstrument is designed to conform to IEC60068-2-75 and other commonly usedstandards in the market. All components are made to the specifications requiredby the standards. Hammers are available in single force selections or aUniversal Spring Hammer that offers five selectable impact energies. Eachhammer is delivered in a protective case with a calibration certificate.
Features
---Body (includes releasemechanism and striking element guide) mass = 1250g±10g
---Striking element with cocking knob and hammer head,polyamide face with a radius of 10mmmass = 250g±1g
---Hardness of Hammer Head =R100 (Rockwell Hardness)
---Release Cone: 60g, release pressure <10N
(Remark:Model SI-2056 2J Spring Hammer strikingelement mass = 500g, releasepressure <20N, hammer head with radius of 25mm made of stainless steel)
ConformsTo
IEC60068-2-75,IEC60065, IEC60335-1, IEC60598-1, IEC60745-1, AS4553-2008, GB4706.1,GB8898,GB7000.1
Specifications
A,UniversalSpring Hammer:
Model: S1-2050: Fiveenergy options: 0.2J, 0.35J, 0.5J, 0.7J, 1J, selectable by means of a disk with knurled edge.
Weight of Body : 1250g ±10g
Weight of Striking Element : 250g ±1g
Weight of Release Cone : 60g ±1g
Release Pressure : <10N
Hardness of Hammer Head : R100
Radius of Hammer Head(arc) : 10mm
Overall Dimensions : 49.6mm diameter, 335mm length in released position
OrderingInformation
Impact Hammers
Model: SFT S1-2050: Fiveenergy options: 0.2J, 0.35J, 0.5J, 0.7J, 1J